Quick and Easy Ways to Clean Out Your Closet
If you love fashion, chances are you can easily envision the ultimate closet. Picture it now — an open layout with beautiful shelving, clothing sorted by color, and organized jewelry displays are all staples in your dream closet. Realistically, though, the perfect closet, which is often achievable with time, money, and a significant amount of space, isn't always doable for everybody. However, cleaning out the one you already have is a great way to make it the perfect fit for you. It may seem obvious, but sorting through your closet, as dreadful as it may be, is crucial every now and then. With the momentum from your New Year's resolutions still in full force, use the tips below to clean out your closet and start fresh.
1. Create a Space You Love
Think of your closet as your own mini retail boutique, and only fill it with things you'd buy over and over again if given the chance. Whether you're working with individual clothing racks or a large walk-in closet, utilize your favorite pieces to create interest within your space and make it a place you like being. Personally, putting in the effort to make my closet a fun space that's reflective of me helps me want to keep it tidy. From inspiration boards with fashion photos, stacks of coffee table books, color coordinated hangers, or a cool shoe display, find what works for you and roll with it.
2. The Hanger Trick
A great way to spruce up your space and control closet clutter is by using "the hanger trick." All you have to do is flip all your hangers so they're facing the same direction. Once you've worn a piece, flip the hanger around so it's facing the opposite direction. At the end of however many months you deem appropriate, reevaluate whether you really want to keep the pieces you haven't worn/are associate with unflipped hangers. The hanger trick is a great way to visually see what's working in your closet and what's not, and to paraphrase the wise words of tidying guru Marie Kondo: if an item doesn't spark joy, then you should ditch it. It's easier to create a closet space that's truly representative of who you are when you're only working with clothing you enjoy.
3. Get Organized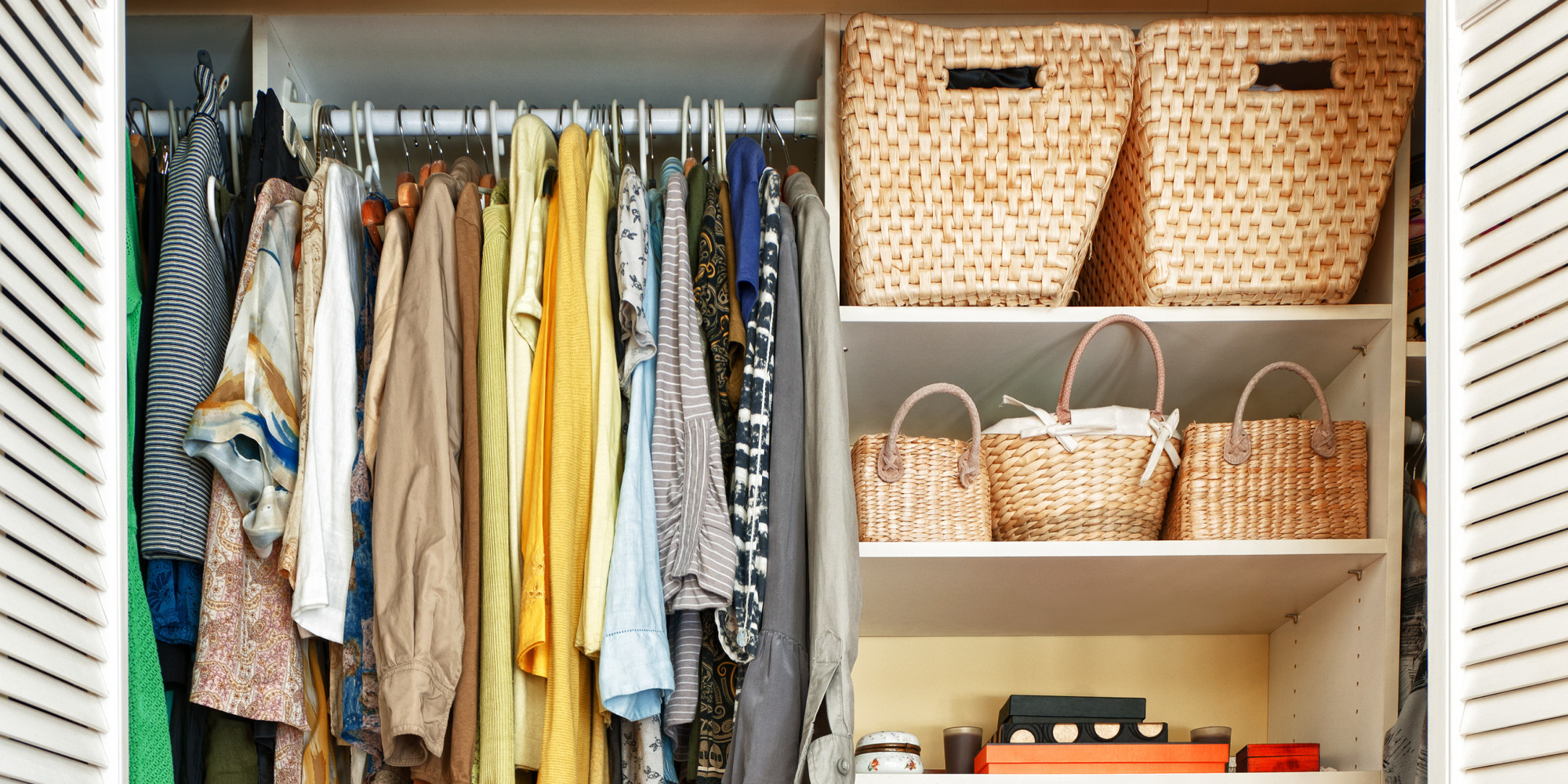 And, of course, one of the easiest ways to clean out your closet is by utilizing any of the many of organizational tools available. From the pricey closet systems to the fun basket sets, cubbies, bins, shoe racks, and more, there's plenty of options that make cleaning your closet a whole lot easier. A few of my favorites right now include the ClosetMaid Large Fabric Drawers with super handy write-on labels, Walnut 2-Tier Stackable Mesh Shoe Shelf, and Wall Mount Jewelry Organizers. Trust me, it's worth it to set aside $100, pay a visit to The Container Store, Target, Ikea, or Bed, Bath and Beyond, and live it up. Your closet will thank you.
How do you plan to clean out your closet? Let us know in the comment section!